To access the Blackburn with Darwen elearning site, enter the following web address onto your browser:
https://learn.blackburn.gov.uk/
You will be taken to Blackburn with Darwen elearning home page.
You will need to log in to gain access to the courses. To log in, click the Log in button at the top right corner.
You will be taken to the login screen:

If you do not have an account you will need to create one by clicking the Create new account button.

You will be taken to the New account screen.
The fields marked with a red asterisks * are mandatory fields to be completed to create an account. Fill in the details as follows:

The Username must be in lower case.
The Password must contain at least 8 characters, at least 1 digit, 1 lower case, 1 upper case letter and 1 non-alphanumeric character such as *, - or #
Enter your email address in both fields and then enter your First name and Surname.
The City/town and Country fields are optional and can be left blank.
Security question
Enter the words you see on the CAPTCHA in order, separated with a space in the box provided.
You can request for another CAPTCHA by clicking Get another CAPTCHA or if you have difficulties reading the text, click Get an audio CAPTCHA to listen to the words.
Click Create my new account.

You will receive an email to confirm your account by clicking the link you have received on your email or you can copy and paste the address onto the address bar.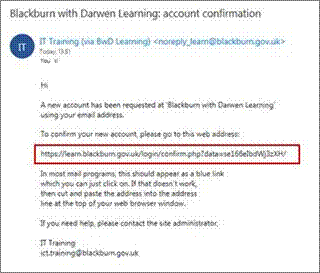 Your account will now be created and you will be automatically logged into the VLE. Your username will be displayed at the top right corner.​